Neo Appeal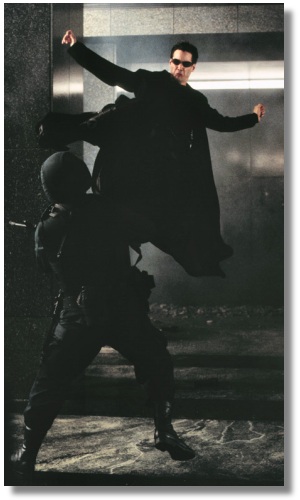 Paul M. wrote me with this query:

"Can you please recommend any Keanu sites / web pages offering eloquent quotations (or even fan poetry) pertaining to what makes the Neo character so appealling and unique?"
I couldn't think of any specific web pages to direct him to (though I did suggest he check out some Matrix message boards), but I told him I would pose this question you you, dear readers....
What is it about Neo?
To get the ball rolling, here's a few things off the top of my head.
There's the pure graceful physicality that Mr. reeves brought to the role. I can't imagine anyone else as Neo in that regard.
As far as character aspects go, I think there's a humilty to Neo that makes him stand apart from your everyday "hero". He's a badass not for badassedness' sake, but to save Morpheus and Trinity and by the end of the first film, all those still enslaved in The Matrix.
Also, since his "superpowers" aren't really to do with physical strength, but rather an understanding of how The Matrix works, I think Neo is sort of a symbol for the power of the mind.
He's a former loner computer geek that saves the day and gets the girl, all without technically leaving his chair.
You gotta love him.

red pill | from inside the mind of krix at February 03, 2003 01:49 PM .