infrequently asked questions
"Gosh, krix. How do you decide what to use on your desktop?"
Well, my desktop wallpaper doesn't change as frequently as you might think. I test out all the wallpapers to see how they look before I upload them, but then I tend to revert back to one of my tried and true favorites. At the top of that list is the wallpaper from the Gorman Theme.
I like just a simple background with a no frills picture.
This is what my home desktop currently looks like.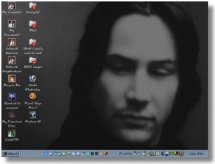 Yes, I really do have a folder called "Stuff I really need to sort".
It contains about 500 pictures and two dozen subfolders.
I'll never get it sorted.
Yes, I have an icon of the boots. I'm insane.
Anyway, this picture of Keanu as Griffin is from The Daily Thud. I enlarged it even more and blurred it up a bit. Sex-ay.
Want it for your wallpaper? You can get it here. (1024x768 only)
doodles | from inside the mind of krix at February 03, 2003 05:44 PM .