I've had six cups of coffee today, wheeee!
There's a commercial for digital cable that's set in the "competitor's" training class room. The instructor opens up with "Pop Quiz....(something about something)"....now, that alone registers as a Keanu connection in my twisted brain. But what is the name of the first person he calls on?
That's right...
Jack.
Sometimes I find it difficult to attribute these things to coincidence.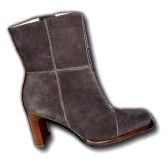 In other news, I finally got around to getting new shoes. On sale, even. So of course, I had to buy a matching fringey purse because I really don't have anything in brown. Or fringes.
I can't decide if they're the cutest or ugliest boots I've ever owned, but I do know that they are the tallest. I'm five foot ten, so I don't usually wear much of heel, and my feet aren't used to it. It's a satisfying pain though. Makes a girl feel alive. They do give me a nice swish when I walk, too. I can feel my IQ dropping with every step.
I could look Keanu Reeves straight in the eye in these boots. And I sure hope there would be something to that eye contact, because I'll be depending on him to pick my ass up off the ground once I inevitably fall off of them when I take a step.
it wahs , off topic | from inside the mind of krix at January 22, 2003 12:03 PM .