the up side to being an Ass Clown
I wasn't going to use this famous picture by Greg Gorman as an Ass Friday picture. It was just way too obvious.
But when I saw this signed version I changed my mind.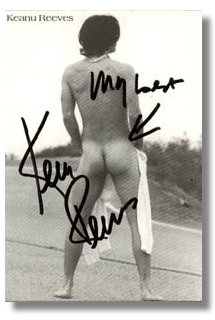 It's stuff like this, confirming that Mr. Reeves has a sense of humor that makes me think "Oh, I would much rather spend an evening talking and goofing around with this guy than getting naked and messing up his sheets..."
Of course, then I look again and start to waver.
But honestly, if given the choice between making this guy laugh or making him come.....I'd choose the first one.
Just as mutually satisfying and less clean-up.
I suppose I wouldn't complain if one led to the other, however.
This picture was sent out earlier in the week by the Pic-of-the-Day club.
Thank you to Margarete.
spoony | from inside the mind of krix at January 10, 2003 12:18 PM .