It's now painfully obvious that Joel Silver doesn't love me...At all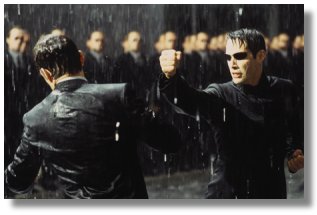 Because if he did, a cute little courier in brown shorts and a backwards ball cap would have brought me my own Warner Brothers press kit with this picture.
I'm crushed, I say, crushed.
I was going to bring homemade cannolis to the premiere for you, Joel.
Now?
Not so much.
If anyone needs me, I'll be lounging on my chaise...Listening to Tony Bennett 45's and erasing the little heart-encircled "JS's" from the margins of my copy of Newsweek.
::sniff::
You can see a bigger version of this pic over at KeanuWeb along with the other recent still images.
And here's some Matrix links, via KeanuWeb...
ET online - Year of the Matrix
Counting Down - Clayton Watson
BBC-Movies to watch in 2003
Thanks to Jena

red pill | from inside the mind of krix at January 03, 2003 04:57 PM .