Coolness factor goes to eleven
File this under "You never know who might be reading what you put on the web".
John Gaeta, yes the John Gaeta, posted recently to TheMatrixOnline's Zion Switchboard regarding Bullet Time. Here's an excerpt:

"This an email message from John Gaeta, VFX Supervisor for the Matrix Trilogy. For real. Every now and then I cruise the Matrix chat rooms to hear what you guys are interested in and how people are looking at the previous and future films. I decided to respond to this question because I see so many discussions which wonder what and who came first and all that stuff."
Head over to the Zion Switchboard to follow the thread.
This, of course, had me wondering just who might have read my Revisited recap. I have to stand by the bad hair thing, though. Sorry, J-Gae.
I have seen more recent pics, and his hair looks great.
Also, there's some great Matrix fan art and wallpapers to be found over at the Gallery, including this newest one of a cast lineup made by Yug...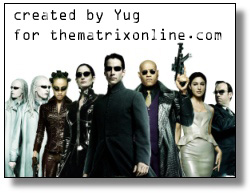 Click the image to go to the full size wallpaper (sans text, which I added).
One last thing...the second wave of teaser posters are starting to pop up at eBay. I'm showing remarkable willpower, mostly fueled by the fact I have NO-FREAKING-WHERE to put them. Okay, maybe I have room for one.
I need to move to a bigger place.
red pill | from inside the mind of krix at November 16, 2002 10:29 AM .