Buy something, already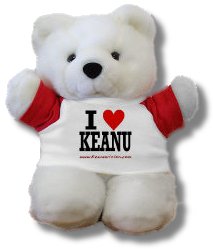 There are some new items over at the keanuvision store, including this cute widdle bear (awwwww!) and....ehem....thong underwear.
And I'm going to make this offer.
I'm going to try and make any southern California and (of course) Vegas shows that Dogstar (hopefully!) might play in the upcoming future. If I'm there and I see you throw a keanuvision thong up on stage, I'll buy you a drink.
If he picks them up and looks at them, I'll buy you 3 drinks. If he puts them on his head? You'll drink on me for the entire evening.
the site | from inside the mind of krix at October 25, 2002 01:17 PM .