Mmmm...hmmmm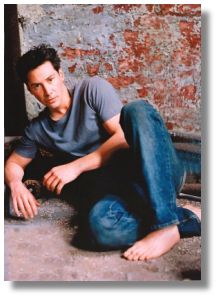 This picture has got to be one of my top ten favorites. It's not the bare feet so much....ok, maybe a little. It's the look. That "I'm about to get up and grab you" look that just makes me come undone.
......Huh? *shakes head Tod-style* Oh, yeah...This week's Virgo horoscope from Brezsny.

VIRGO (Aug. 23-Sept. 22): Do not under any circumstances burp, fart, and sneeze at the same time. For that matter, Virgo, refrain from leaping into the air while blowing up balloons and chewing gum. And never, ever go out to do nitpicky errands as you meditate on the painful events of your childhood and try to dream up a smarter long-range financial strategy. This week, more than ever, you need to cultivate a one-track mind. For now, tunnel vision is the truth and the way.
spoony | from inside the mind of krix at September 26, 2002 09:01 AM .