Wish I was in Santa Monica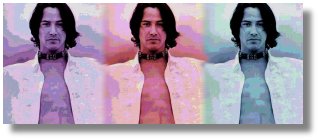 Some of the coolest bloggers I know are going to be having big fun at the Santa Monica Pier in a couple hours. I wish I would have taken the day off and driven out. Feh.
I really hope that Dogstar plays a show or 2 in LA before the end of the year, because that's the reason I'm holding on to my roadtrip tokens. I plan on dragging a few bloggers with me to a show if it happens. I kind of like the idea of a posse.
What else...?
Ah! Site updates- I've got a 4th wallpaper album up. faithful blog readers will have seen them before but now they are all in one spot for your desktop pleasure. If none of them suit your fancy, there are 3 dozen more to choose from. Just go to the main wallpaper index and poke around.
I also intend to get the metaKeanu gallery up sometime soon.
I mailed off the check for hosting for the next year. Can you believe Keanuvision.com is almost a year old? Craziness. And my 1 year bloggaversary is coming up sooner than that.
No fanfare, please. It'll just encourage more psychobabble.
the site | from inside the mind of krix at September 21, 2002 11:38 AM .