Artsy stuff
This is the first in a Warholish series I'm going to do. Actually second if you count the one in this post, but I didn't do a hi-res of that.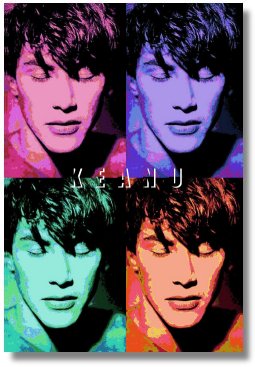 You can click the image to go to a slightly larger version, you can also click here for a non-shadowed small version to use as a tile background,
or if you're feeling crafty and ambitious you can click here to get a hi-res/hi-dpi version that would be suitable for printing or making a t-shirt transfer.

I had a email asking about transfers , so I thought I'd add this...
How do you make t-shirt transfers?
You can buy packs of special t-shirt transfer paper to use with inkjet printers just about anywhere that they sell computer supplies/accessories (even like Walmart).
Then you want to follow the directions (RTFM).
Be sure and use a graphics program to flip/mirror the image! It usually has to be backwards to print out the right way.
It may also need to be resized depending on your printer/software/whatever.
Use the "print preview" function if your graphics program doesn't have a "fit to page" type selection adjustment or test it on regular paper before you print the transfer.
So, follow the directions, print a test first.
YMMV
doodles | from inside the mind of krix at September 12, 2002 12:24 PM .