I "heart" Ted
If I could pick any character that Keanu has played to be my boyfriend...
well, I'd have a hard time making a choice.
But up there at the tippy-top of the list is Ted "Theodore" Logan.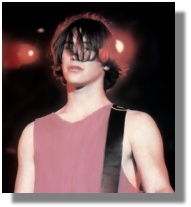 Yeah, Neo's got the moves, but he's way too busy being "The One" and all.
Paul Sutton's a sweetie, but he's a little too sweet for my taste. I'd get bored and end up breaking his heart over a weekend fling with Kevin Lomax.
Johhny Utah and Jack Traven sure are hunk-a-licious, but I couldn't bear having to constantly worry that one day some uniform is gonna show up at my door with a box of ashes and a badge.
Johnny M? ISSUES. And probably pretty high-maintenence, too.
I could see myself with Thomas Anderson, both of us in a little loft, geeking out at our his and her's workstations....but what do do once he's unplugged?
Shane Falco has tremendous boyfriend potential....if I didn't have a history of seasickness.
Aside from maybe Donnie, Griffin and Marlon I'd probably give any character he's played my real phone number.
But, ahhh......Ted.
First off, I love musicians...and ones that don't have a problem having their girlfriend in the band? Bonus.
He's got a best friend that's likeable enough that I wouldn't mind him hanging out all the time, but not someone I'd ever be into so there'd be no complications. His other friends are pretty cool, too.
He makes me laugh. He's adorable.
Plus, he's got a great future ahead of him.
I "heart" Ted.

spoony | from inside the mind of krix at July 23, 2002 01:34 PM .