Ah, but it's a DRY heat...
The temperature is supposed to get up to 117 degrees here today.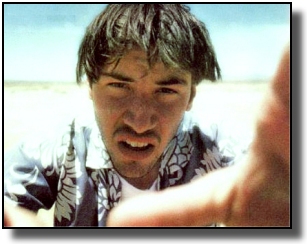 Which means I'll have to be very VERY careful when transporting my new copy of TMBG's Flood (THANK YOU RHONDA!) home, where it shall never EVER see the light of day again.
I've lived in Vegas almost my whole life, and I suppose I'm used to it, mostly...
It's the car seats and assorted brand-you-if-you-touch-it metal bits that will kill ya. Don't ever wear dangly metal earrings in the summer in Vegas or you'll actually burn yourself on the neck. I'll pass on the accidental body modification, thanks.
I think Keanu should retire here. He always seems to be dressed warmer than necessary. I think he has body heat issues...I think many of us would be willing to serve at human heat sources should the need ever arise.
Although on a hot summer Las Vegas night, nothing's worse than someone else's body heat making it even hotter.
Working up a sweat is one thing, but afterwards?
I'd be all..."Stay on your side of the bed and don't touch me! Auugh!"
Although, that's what ice play is for.
Anyway, in other news, The Daily Thud! COMPLETELY lives up to its name today.

it wahs | from inside the mind of krix at July 09, 2002 10:48 AM .