Shop
Not much going on today so I thought I'd hawk the keanuvision online store a bit.
Added a new item, this spiffy "I [heart] KEANU" license plate frame: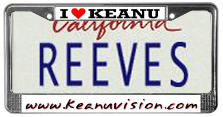 I've already ordered one for myself.
No, the "REEVES" plate doesn't come with it, that's just for show.
I'm still giving away a copy of Dogstar's Quattro Formaggi CD with every order, and if you order 2 items or more, I'll throw in a "Bill and Ted's Excellent Adventure" comic book.
And a dollar for each item sold goes to charity through the
Shave Hoopty Project.

the site | from inside the mind of krix at June 08, 2002 12:09 PM .