Silky silky now
Passing his hands, of purple nails, through strong black spiky hair, recently reborn, Keanu Reeves meditates. "I started by the eyebrows. One day I shaved them, it was great." He opened his almond shaped black eyes: " The most interesting aspect was people's reaction. I talked to people and they turned their head in a certain way. I asked them innocently: What's wrong? Do I smell bad? What is it? It was very strange. I remember having spent lots of time thinking of this strange face in front of the mirror. It was the same person, but my personalty seemed ripped away, because I had no hair. It was very, very strange." ~From City magazine June 99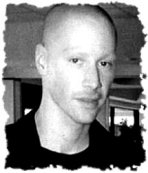 If anyone still manages to look completely exquisite, even without eyebrows, it's Keanu Reeves. I'm fascinated by his face with or without them.
In fact, it's kind of a turn-on.
But that's me.
I have a shaving fetish.
There.
I said it.
One of the quintessential "hit-krix-below-the-belt (so to speak)" moments of any Keanu interview, is when he appeared on Jay Leno promoting The Matrix and talked about shaving everything for the pod scene.
"I shaved my arms... I shaved my legs..."
...all the while pantomiming the razor.
Guhhhhhhhh......hold me down.

spoony | from inside the mind of krix at June 01, 2002 01:11 PM .