Yeah, I've got some catching up to do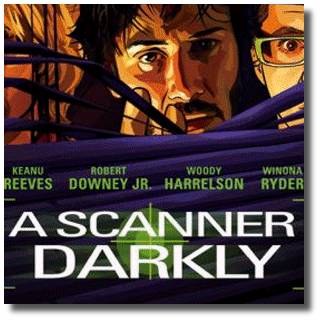 Here's a look at the poster for A Scanner Darkly, and Warner Brothers also has released a new trailer as well (direct link to quicktime file).
I love, love the paraniod look of the windowblinds.
Coming to a newsstand near you, Keanu will be featured on the cover of March's issue of WIRED Magazine, (which V. has a subscription to so I'll be checking the mailbox) and will also be interviewed by Michael Fleming in April's PLAYBOY, which someone will have to go to another part of town and buy... *cough* [dons sunglasses], 'cause ya know....smut.
Today, referencing that Wired article, AICN reports that Reeves is possibly being considered for another comic-based role, this time it's Marvel's Silver Surfer, and 'tis merely a rumor at this point.
More confirmy is that Keanu will be presenting at the Oscars this year, and is said to be attending The Independent Spirit Awards the night before, or at least the party.
And what's been going on with me?
Well, The Vibemerchants went to a pro studio and recorded a couple of songs so we could enter a contest to open for....Bon Jovi! Which is hilarious but sort of appropriate since Bon Jovi was the biggest name that a little band called Dogstar was ever on the bill with, I believe.
And last but definitely not least, February 14 was a very special "V." day....I got engaged.
:)
darkly | from inside the mind of krix at February 21, 2006 04:23 PM .