I got yer Constantine right here...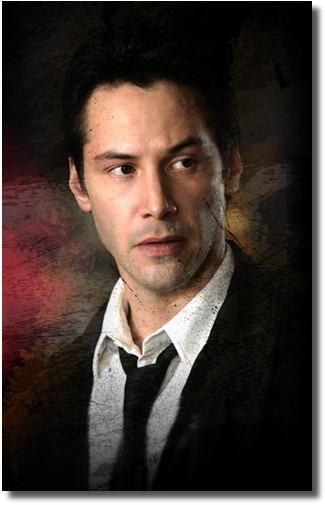 It might just be the cough syrup in me talking but...
What in the flaming hellfire of highway 101 are some of these lame-ass reviewers talking about? I've read some that are so off the mark, they don't even have the characters straight. Plus some are just mean.
Screw 'em with a stick of gum. Skits liked it, so there.
They're not all bad, of course. Actually, it's about even.
By the way, This person makes a wonderful point(thanks kaz!).
The reviewer for The Catholic News must have been enraged by the film, he uses the word *gasp* 'poppycock' in his review. *snicker*
Mike Szymanski gets it, as does Larry Carroll over at FilmStew.com. Also at FilmStew is this interesting bit about the preparations Keanu made for the role (thanks amphora!). I guess it's knowing how hard Keanu works that compounds the annoyance when some of these hacks write his performance off with the same old weary catch phrases (wooden, surfer dude, etc).
Bah. I need more NyQuil.
And possibly a siesta.
constantine | from inside the mind of krix at February 23, 2005 12:22 PM .