Looking at Constantine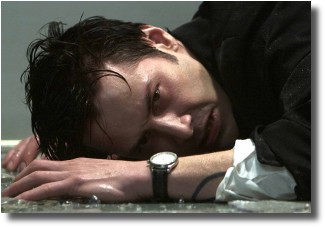 Consider this the official keanuvision Constantine reaction/discussion thread. Don't click below or in the comments if you haven't seen it yet because there be spoilers.

I'm going to want to see it again this weekend (of course) but after seeing the film this Monday, I can say I really liked everything about it for the most part. I loved the look of the film and all the actors gave great performances.
Like Parsi's comments in an earlier entry...
"Saw the movie today and I was blown away. Its NOT like any other movie & I was not born yesterday so I've seen a whole lotta movies. Can't wait to see it tomorrow, & I really can't wait to have it on DVD! This movie will remain a classic for those who appreciate the genre. I expect there will be a lot of copycatting.... Keanu's performance as Constantine was perfectly INSPIRED (I have read the entire Hellblazer collection) and the rest of the cast were brilliant as well."
...I thought Keanu nailed it. The final scene with The Devil (brilliantly played by Peter Stormare) was one of his best performances ever, in my opinion.
constantine | from inside the mind of krix at February 18, 2005 11:14 PM .