Ultimate Matrix Hooha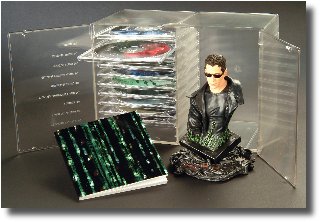 The bigass Matrix DVD box set hits the stores today. I'm not rushing out to buy it due to both time and money but I'm sure I will eventually. I expect the Keanurati will have lots of screenshots and whatnot by the end of the week. I know I'll eventually get it because I'm a sucker for those extras.
For insights into the subtle direction of actors, watch as Larry Wachowski gives cues to star Keanu Reeves, suspended on wires for a fight scene, in a manner Ingmar Bergman may never have considered: "Head jerk. Then thrashing. Then a big thrash. And another one. Then clench. Tighter. And die."
Actually, now that I think about it, I may have heard those exact same instructions on a date once.
red pill | from inside the mind of krix at December 07, 2004 12:01 PM .