Goal Oriented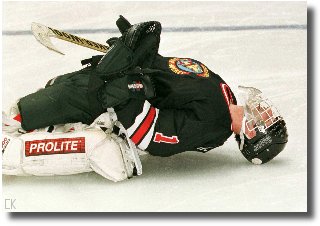 Keanu's been known to bend over backwards for charity before. Since his bass dance card is no longer full, here's hoping he'll make some Chicago area ARIZONA fans happy and take part in this hockey event.
From the Chicago Tribune:


Miss hockey? Skate for charity.

You won't be able to watch the NHL All-Star Game because it has been cancelled during this locked-out season. But you can play in an All-Star Game of sorts in December.

Former Blackhawks star Jeremy Roenick is staging "J.R.'s Wicked Weekend," a charity event for the Kita Children's Foundation over Dec. 10-12 in Arizona that includes a round of golf and participation in a fantasy camp-like hockey game.

Your golfing foursome could include the likes of Tony Amonte, Steve Yzerman or Doug Weight, while your linemate in the hockey game might be Mario Lemieux or Mike Modano.

Also invited: hockey-playing actors Kiefer Sutherland, Cuba Gooding Jr., Keanu Reeves and Matthew Perry. For information, call (312) 280-5188.
Note that it only says he's invited, not confirmed so don't go booking a flight just yet.
***Thanks to Carrie for pointing out that this event will take place in ARIZONA, which is like, right next door to Nevada.
However, I have serious, would-not-change-for-anything-not-even-the-chance-to-body-check-Reeves plans that weekend.
media spot | from inside the mind of krix at November 24, 2004 12:11 PM .