dig becky's new digs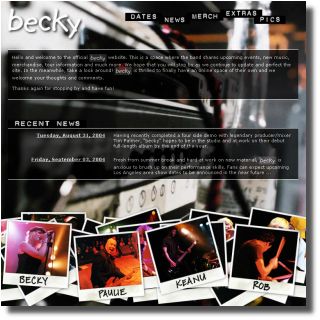 The official becky website has a shiny new URL: www.beckymusic.com and a great new look as well. I LURVE the background image of Keanu's bass head on the front page.
Along with some newsy stuff (demo is done, hopefully a new disc by year-end and the whiff of some possible upcoming LA shows) there's a merch page (t-shirts and tanks) and a hip new photo section too.
And don't miss the "10 things becky wants you to know about Keanu" page.
Hee!
Check the other band member's lists by clicking their polaroids on the main page.
So update your bookmarks and um.....rawk!

becky | from inside the mind of krix at September 08, 2004 09:36 PM .