In other news, the sky is blue and Keanu Reeves ain't that bad lookin'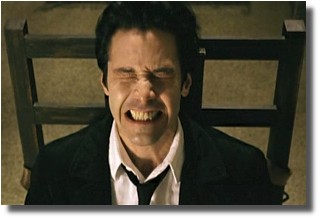 From SciFi Wire:

Constantine Is Gritty.

Francis Lawrence, who directed the upcoming supernatural film Constantine, told SCI FI Wire that he deliberately avoided shooting the movie in the style of a comic book, even though it's based on the Vertigo graphic novel Hellblazer. "My approach to this from the beginning was to never shoot it like a comic-book movie," Lawrence said in an interview at Comic-Con International in San Diego over the weekend. "I think that's been done before."

Lawrence added, "It was done very, very well with Tim Burton's original Batman. From then [on], I don't think anybody's really topped that. Everybody's built Gotham City again, whether it's called Gotham City or not. Everybody's done the dutched angles and all the bright colors and made things super-campy. And what I wanted to do, and what I always loved about the comic, was it was rooted in a reality and in real places. What I really wanted to do was make it really feel real. And it seems to be working. It seems to be what people are responding to. It's not all hyper-real. It's not super-stylized. It's rooted in a gritty reality."

To play up Constantine's gritty look and feel, Lawrence transferred the action of the story from the comic's London to Los Angeles, scene of many films noir. "I was referencing the movie Training Day, because we were shooting in L.A., and it's sort of this different side of L.A. you don't see," Lawrence said. "It's a little more ethnic. It's a little more realistic L.A. It's not just sort of the landmarks of L.A. I like the colors of that. The feelings and the textures of that. And I actually worked with the production designer of that film on this as well. If you want a reference for [the film's] look, you can go with that. The 'noir' comes more in the tone of the character and the structure of the story and the way Constantine interacts and deals with people and the world around him."

Constantine stars Keanu Reeves as supernatural detective John Constantine, who is facing death by lung cancer and must find a way to stave off the demonic forces that want to drag him to hell. "There are plenty elements of horror in this," Lawrence said. "There are plenty of scares. It's creepy throughout. What's interesting about this movie, and what I'm really proud of, too, is that it's not really genre-specific. It's not a supernatural thriller. It's not a horror film. It's not four kids in a van going off and getting chopped up by an ax murderer. It's not just fantasy. It's this weird blend of all these things."
constantine | from inside the mind of krix at July 27, 2004 07:58 PM .