more constantinian comic con goodness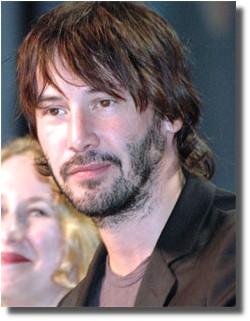 Don't expect Keanu Reeves to play another reluctant hero with special powers who's called on to save the world in his upcoming supernatural action flick Constantine.

Scratch that. That's exactly what to expect, but Reeves says he found the hard-boiled magician John Constantine an appealing character despite any resemblance to his role as the savior of the Matrix trilogy.

"The character itself is so beautiful," Reeves said Friday during a panel discussion of the Warner Bros. film at Comic-Con International. "It's a guy who's dealing with issues of Heaven and Hell and how the world works. He's not happy about how the world works -- and I can relate."

Also, Empire Online reports on yesterday's appearance:
"At the heart of it all, though, was Reeves, whose gritty, SFW turn as the nihilistic Constantine (rapidly encroaching lung cancer and all, a storyline taken from Garth Ennis run on Hellblazer) had the geeks eating out of the palm of his hand.

And, as if to reciprocate, the notoriously private and often prickly Reeves was personable and fun during the presentation (during which he was asked 90% of the questions), flashing a constantly bemused smile as his every word was greeted with shrieks and shouts.

At one point he even leapt down from the stage to receive a present from an endearingly eager fan, who declared that 'You are DA BOMB!' Luckily, it turned out to be an actual present and not a thinly veiled bomb threat.

Anything where there's a great enthusiasm and where there s a coming together to share what you think is cool, I think it s awesome, said Reeves of the Comic-Con experience, before expounding further on the appeal of Constantine.

I ditched the accent, he laughed. But I really loved the guy. I loved his anger. I loved his wry sense of humour about the awfulness of the world and what that's turned him into. He's like a warrior in this world of shit, and he's trying to deal with it. "
SuperHeroHype has a look at a really ugly poster.
Ooooh, one more (via keanuweb). Cinescape.com has a nice long SPOILERY rundown of the footage shown. I'm not going to read it, but if you want to, go HERE.
constantine | from inside the mind of krix at July 24, 2004 09:52 AM .