The train in 'tween leads Trin mainly to her man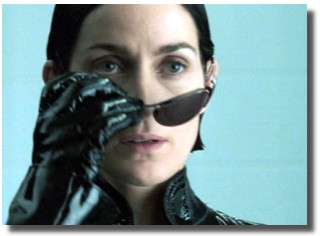 The Matrix 101 has part 2 of Stephen Faller's article series on feminist themes and symbolism in the Matrix Trilogy.


"It could be argued, in fact, that Trinity is a neo-Pygmalion (no pun intended). Pygmalion is the story of a woman who is created around the personality of a man, by him, and for his enjoyment. Maybe this is Trinity -- not that she was created by Neo, but that maybe she represents the new ideal of how nerds like their women. Are her qualities really hers, or does she represent the epitome of what nerds really desire? She knows her computers. She's physically fit. She's lusty and aggressive about satisfying her desire. She resorts to violence to solve her problems (in that she's more concrete than emotional in problem-solving). She's jealous. And she's devoted."
Click the quote to go read the whole piece.
TheMatrix101.com has all kinds of interesting reading. Definitely worth checking out.
red pill | from inside the mind of krix at June 22, 2004 03:58 PM .