projects shmojects, where's the schwag?
Thanks to J. White over at the hellforum for this article from Comics Continuum:

Expect to see several projects to tie in with the release of the upcoming Constantine movie, editor Will Dennis said Sunday at the Vertigo panel at Wizard World Philadelphia.

"With the Constantine movie, there will be a lot of Hellblazer things that will turn a lot of people's heads," Dennis said.

Dennis said he couldn't currently elaborate, but one of the items will very likely be an adaptation of the film.

Constantine, starring Keanu Reeves, is targeted to open in theaters on Feb. 11.

The casting of Reeves and the Americanization of Constantine have created controversy around the film, but the Vertigo editors at the panel said the movie can be successful.

"He's read all the comics, he's read all the stuff out there," Dennis said of Reeves. "He's taking it very seriously. He's done good work in certain parts, so it'll be interesting to see.

"People will be surprised at how much they have captured of the comic. Hopefully people will go in with open minds. And, really, it's exiciting to see a Vertigo movie."

Added editor Jonthan Vankin: "Having read the script, they've made an attempt to capture the comic and bring some new elements for the movie."
I think the comic guys will be OK with something like a special title adaptation, as long as it doesn't have any lasting effect on the original Hellblazer title.
And I bet some of them would buy action figures.
Ultimate Hellblazer Indexer, John Goodrich snarks:

"I'm sure there will be all sorts of cool movie stuff. Constantine HeroClix, yet more T-Shirts with Keanu on them, boxes of Holy Shotgun condoms, limited edition Holy Shotgun replicas, a Constantine lunchbox, plush toys based on the villains of the film, a kubrick set, more Constantine slash fiction, and a limited edition of Constantine plates signed by all the cast members who can actually read. I'm so excited!"
I'm pretty sure he's being sarcastic.
Still, I would totally buy a Ceplavite plushie or maybe one of these...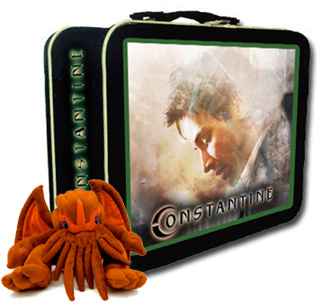 constantine | from inside the mind of krix at May 25, 2004 11:59 AM .