becky does vegas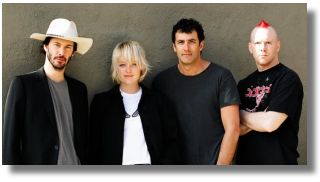 I'm insanely excited about tonight.
Not only do I get to see becky in my own backyard, but I'm going to get to hook up with some great friends and fans - some I haven't seen in ages and some I'll be pressing the flesh with for the first time.
AIEEEEE!
The cherry on top of it all is that Roi and Dave and (hopefully) Brittney* will be there as well so it has all the potential of a historic "becky meets the vibemerchants" moment. (See, the short term vibemerchant goal is to open for becky. Long term is them opening for us.) I've tried to subtley suggest that Roi seek Keanu out and thank him for inspiring me to play bass, but I'm pretty sure he's going to be too distracted by Rebecca. I can't wait to see what 6-string virtuoso-Dave thinks of Paulie's shredding, and I'm hoping to get Brittney to absorb some of Rob's greatness by osmisis.
By the way, big bold print on the tickets says NO CAMERAS so don't hold your breath for shots from the show, but I will have the camfone just in case.
Of course there will be drunken audblogging.

*OK, Brittney is the girl drummer that we audtioned the night I came back from the last becky show and she isn't actually a Vibemerchant, yet. But I'm going to work on it. It seems to me that even though she's a beginnner (drum-wise anyway. She's a freaking jazz guitarist so I KNOW she's got musical talent), if we had spent the month of waiting for drummers to SHOW UP working with her and teaching her the songs we'd be done with drummerquest. And frankly, I like her a lot and want to work with her in some capacity. Maybe an all-girl Dogstar cover band?
becky | from inside the mind of krix at April 16, 2004 11:37 AM .