trilogy babble and the passion of neo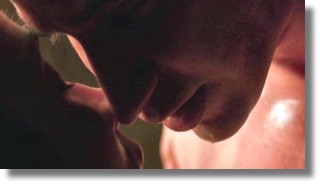 On Saturday afternoon, I finally got around to watching the Matrix Trilogy from start to finish. I love the way it all fits together and anyone that continues to bitch about these movies can freaking bite me.
My....so eloquent today, no?
Seriously, though. In watching the three together I really saw things brought full circle. And also with the help of the subtitles, I caught a lot of important dialog that had gotten by me before. One thing that stood out was Morpheus' speech in the temple.

"Tonight let us send a message to that army. Tonight let us shake this cave! Tonight let us tremble these halls of earth, steel, and stone! Let us be heard from red core to black sky. Tonight, let us make them remember. This is Zion! And we are not afraid!"
The citizens of Zion dance to shake the earth, to show the machines that humanity is not afraid. It wasn't a "cave rave", it had purpose and especially cut with Trinity and Neo's lovemaking it makes so much sense. Again, anyone who bitches about that scene not making sense or going on too long can bite me.
Anyway, I could probably go on and on, but not today.
For more deep mind feeding matrixy goodness, Stephen Faller, author of Beyond the Matrix, has written a 5 part article , The Passion of the Neo.
The first 4 parts can be found at his website
UPDATE: Part 5 is now up at The Last Free City, I imagine it will be also at Mr. Faller's website shortly.
-via The Last Free City
red pill | from inside the mind of krix at April 13, 2004 01:28 PM .