I [heart] Ashton!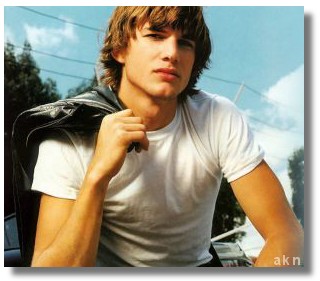 Christopher Ashton Kutcher was born on February 7th, 1978 in Cedar Rapids, Iowa. His twin brother, Michael, followed about five minutes later. Ashton also has an older sister, Tausha. His parents, Larry and Diane, divorced when Ashton was thirteen years old. It was around this same time that his brother had to undergo heart transplant surgery, which went smoothly. Still, the medical emergency impacted Ashton's life, and he later enrolled in the University of Iowa, where he studied biochemical engineering in hopes of finding some way to help people with cardiomyopathy, the disorder his brother suffered from.
When Ashton was fifteen, his mother moved her family, along with her soon to be second-husband, to Homestead, Iowa - a relatively small farming community. While in high school, Ashton excelled at sports, but also developed a keen interest in theatre - making his debut in a 7th grade production of "The Crying Princess and the Golden Goose."
However, for the time being acting was only a hobby, and he was focused enough on his studies to gain entry into the University of Iowa's biochemical engineering program. It was while studying at that institution that an agent discovered him in 1997. He was spotted at a restaurant and the agent suggested he enter a modeling contest called Fresh Faces of Iowa. Ashton ended up winning the competition, and earned himself a trip to New York to compete in an International Model and Talent Agency competition. He was quickly signed to an exclusive agency, and ended up traveling the world doing photo shoots and runway shows. Ashton landed some very good gigs, including Versace, and Calvin Klein.
In 1998, he decided to spread his wings some more and went on the audition circuit. One of the first shows he tried out for was That 70's Show , and he was lucky enough to get a very big early break.
Not one to rest on his laurels, Ashton took steps to make the jump to the big screen. He quickly landed roles in the teen romantic comedy, Down to You , the Ben Affleck action flick Reindeer Games and the modern western Texas Rangers , starring James Van Der Beek. Still young, Ashton has already managed to make an impact in the mediums of print, television and film. Clearly, he is one to watch.
Fun Ashton Facts:

Ashton has two webbed toes on his left foot, the second and third toe ["OMG! Me too!"--krix]

Won a trip to New York in a modeling competition; subsequently signed by the Next modeling agency (1997)

P. Diddy has been given a lot of credit for hooking up Ashton Kutcher and Demi Moore, because they really have been inseparable since his L.A. party that summer. But they actually met in April on Saturday Night Live.

Ashton had to perform CPR on Colin Hanks in March 2003 when flying back from Mardi Gras and their plane suddenly lost cabin pressure.

Ashton loves to make things and is quite the craftsman. He is currently remodeling his home in LA and has built such things as a deck and the mantle in his living room.

Ashton is not only an actor, but wrote ("master-minded") and produces "Punk'd". He was actually a co-producer for "My Boss's Daughter" and is an executive producer in the thriller, "The Butterfly Effect", as well as, a producer for the comedy, "The Dinner Party", also starring Bernie Mac.
Source--Ashton-Kutcher.net
off topic | from inside the mind of krix at April 01, 2004 12:01 AM .