kiwi rawk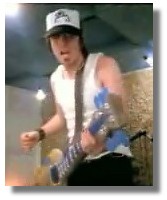 Last June, when becky played the Viper Room, one of the other bands on the marquee was New Zealand's Steriogram. You may remember me screaming in the club, trying to leave a voicemonkey message about how much they rocked.
Well, Tyson (who said "hi" on the voicemonkey that night), Brad (great kisser)and the rest of the band (swell fellas as well) are getting ready to hit it big time with a new Michel Gondry directed video for their song Walkie Talkie Man and their debut CD, Schmack! (great title) due to release on April 20. You can watch the video and check out the song at the Capitol Records' site and of course you'll want to go to Steriogram.com (flash required) for even more rockin' kiwi-boy goodness, including their gig guide for upcoming american tour dates (Vegas, baby! March 19) so you can catch them live.
\m/
off topic | from inside the mind of krix at February 24, 2004 11:52 AM .