more constantine (updated)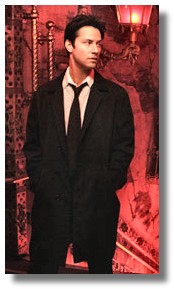 CHUD (cinematic happenings in development) dot com has a lengthy Constantone article.


"The holy shotgun? Yeah, there's a half-breed that kills a couple of the characters who are my friends so I'm seeking revenge. So, I put together this 'holy shotgun,' which again I think is kind of fun - 'killing with God.'" - Keanu Reeves on his brass, cross-shaped and Latin-inscribed weapon in Constantine
Those same set pictures are in the article and there's also a mouthwatering first look at Keanu as Constantine (shown) and the characters Midnite (Djimon Hounsou)and Chaz (Shia LeBouef) in a great picture that looks straight out of a comic.
There are some plot points discussed so spoiler warnings apply...

Read it all at CHUD.com.
(thanks to AleXXei at the forums)
Also, SuperheroHype talks to Constantine Director Francis Lawrence:

"I think it's the whole idea of an anti-hero - this guy that sort of understands the world to place that normal people don't know exists. I think that he's sort of a supernatural, hard-boiled detective. He reminds me of the Sam Spade's and characters from the classic film noirs."
....and SciFi Wire has an article, 'Reeves Defends Constantine':

""We spoke about [the changes made to the character], but it seemed in terms of the platform that we were using, which became Los Angeles—the world in terms of heaven, hell and Los Angeles—seemed to be attractive and make sense. And we're kind of doing a hard-boiled kind of take on the piece. So we kind of went this way instead of a more gothic aspect."
"Hard-boiled" is apparently the new "raising the bar"....
Djimon Hounsou also talks to SciFi Wire and has this to say about Keanu...

Housou said that acting with Reeves has been exciting. "He's done so much, and this time on this picture, working with him firsthand, it's quite a nice surprise," he said. "I realize how actually he's a very talented man, and ... he's so anal about the work. The guy has received some criticism, good and bad, but working with him, you have a great affinity for the kind of generosity that he has with the work and with people that [are a] part of this picture. He definitely is a very simple man and somewhat maybe misunderstood, because he's just very reclusive, very private."
Lastly, here's a bit about the music that we can expect to hear in the trailer (thanks Netz).
One more update: Let's just declare today Constantine Day, Shall we?
I think that Garth, at Dark Horizons has got the whole thing covered. Hopefully that's the full and complete interview, from beginning to end. (via keanuweb)

constantine | from inside the mind of krix at February 20, 2004 08:10 AM .