freckle therapy redux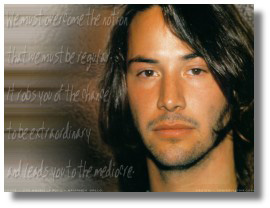 Seeing how there was such a reaction to this Armando Gallo pic, I thought I'd do a wallpaper.
The quote is from Uta Hagen, actress, teacher and author of several books on the craft including Respect For Acting and who was a major influence on Keanu and his ambition to act. Sadly, the world of theater lost this great gift to audiences and students this month.

doodles | from inside the mind of krix at January 29, 2004 12:57 PM .