picky picky picky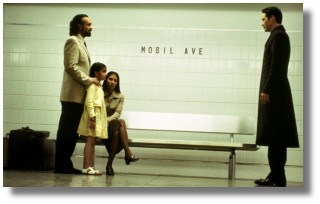 MovieMistakes.com already has over twenty mistakes spotted in Revolutions.
From the 'quite nitpicky, actually':

"In the rain battle scene, where Neo is laying on the soaked ground after crashing into the road, Neo's ear is filled with water, in the next shot, the water is gone. Neo's head hasn't moved between the two shots."

[Stop scrutinizing my sweet baboo's ears you maniacs.]
To the 'well, this is sort of important':

"In the train station, the Indian program explains to Neo that he cannot come with his daughter because it is his karma to keep doing his job as a program. In both Hinduism and Buddhism (it is not definite which religion he is) karma is the overall value of one's spirit, or soul. The concept that he was speaking of was dharma, which is the duty that a soul is obligated to perform."

Reloaded has a count so far of 80 mistakes spotted, and The Matrix? 112.
Also Matrix related, this entry has taken on a life of its own as a idea exchange for cracking the new 128-bit code over at the official site.
Which is just so cool I can hardly stand it. You rock on hax0r boys!

red pill | from inside the mind of krix at November 11, 2003 11:52 AM .