slice of saturday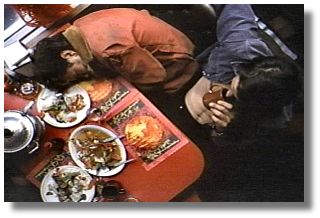 Little cat toeclaws and a little cat tongue brought me out of my sleep this morning so quickly I can't remember if I dreamed or not. I think I may have been roughed up a little by the sandman, it feels like I have a new phantom bruise on my eyebrow. Tender.
Your mind makes it real, they say.
No coffee yet today, there's only decaf brewed. Not my doing, it's bitter swill with no real purpose, in my opinion. The ficus gets it when it cools.
I have some new books to read so I have something to occupy me on my self-imposed cyber hermitage.
Is that a word? I know it's a wine.
I think maybe I should start drinking heavily again. It's fall, after all.
'Tanked off your ass' is the new black, I hear.
Dashing young Funk came to the comments to check on me.
So sweet.
If only all the nice boys weren't interstates or oceans or tax brackets away.
My stream of consciousness is puddling.
I expect to descend into full-on madness by Wednesday.

it wahs , off topic | from inside the mind of krix at October 25, 2003 10:34 AM .