hair snoot (snit? whatever.)
Keanu Refuses To Lighten Up

August 1, 2003 (WENN via COMTEX) -- THE MATRIX hero KEANU REEVES is refusing to bleach his hair blond for an upcoming movie role. The naturally dark-haired actor has been urged by producers of CONSTANTINE to go lighter, but he is not convinced.

A movie insider tells British tabloid THE DAILY EXPRESS, "Keanu has tried on various blond wigs and thinks he looks absolutely stupid."
Esqueeze me, when did Keanu become concerned about his looks when it came to a role? This is the guy that shaved everything for the Matrix, and then went out and played gigs. Frankly, I can't see him getting all diva over a little frost-n-tip.
Let's look at some questionable movie do's, shall we?
Little Buddha was a screamfest of bad hair don'ts, this one being the one that squicks me out most.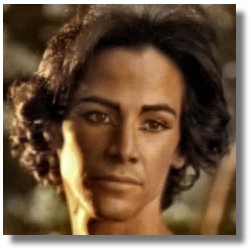 Oh, no...He doesn't look like a cross between a goth Nancy Reagan and a crackhead June Cleaver here at all.
Then there's Marlon. Whose bad hair was completely intentional and part of the character.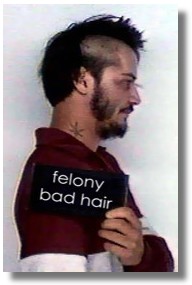 But it's still pretty fucking bad.
(Actually, I just watched ILYTD last weekend, and a bigger affront to fashion is Marlon's pants)
OH! And don't get me started on the roadkill they strapped to his head at the end of Feeling Minnesota.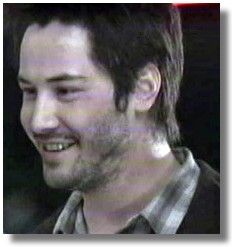 This one is a good argument that "YES! of course the blonde wigs looked stupid. ALL WIGS LOOK STUPID." But a gradual lightening won't be a shock and it would work.
It's not like he's weird about his hair, from fan reports and pictures from Oregon, it sounds like he may have gotten some extensions for Thumbsucker.
I'm actually hoping we'll see him in a seedy hippy ponytail, to be honest.
I like seeing him break from the expected and the norm. I think that was why he was so riveting as Donnie Barksdale.
So I don't believe the article for a minute. The shame is, now that this is out there, even if it wasn't his idea but they do decide to keep his dark hair, the comic fans will blame it on Keanu.
I've been reading the forums and they STILL can not accept that he's playing their beloved "ConJob".
I really want to see him with light hair. And more importantly, fans of Hellblazer practically require it. And while I've made a few attempts in photoshop to lighten him up and will admit that it's not as easy as it sounds, don't tell me that a team of Warner Brothers' stylists couldn't make it happen. He doesn't have to go completely blonde, but something like taken a little bit further this would work.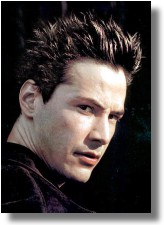 Dontcha think?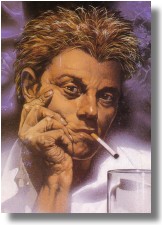 I just think it's very important, especially after they are changing SO MANY other aspects of this character to at least try to vary from Keanu's dark locks. As an actor I would think he would be up for it.
I guess we will wait and see.
Ultimately I really can't see Keanu refusing something like this on the basis of how he looks.
constantine , it wahs | from inside the mind of krix at August 13, 2003 12:03 PM .