she's crafty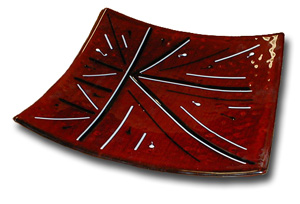 I got my other glass projects back over the weekend, the round plate turned out OK except for some reason it clouded, I don't know if it was overfired or what, but THIS ONE - the square sushi platter - came out fabulous.
I'm really pleased with the color and clarity of this one, like his eyes.
Click here to see a straight-on shot of the design.
I should have wiped the fingerprints off before I took that pic.
Anyway, I think I will be helping my brother to invest in a kiln to go into the plate business.
My mom looked at it turned a quarter and said it looked sort of like an Asian symbol.
So if I have any readers from China/Japan who could look at it from this angle and let me know if it resembles anything, I'd be thankful.
I'd like to make sure I'm not putting the word for something unappetizing on my plates.
off topic | from inside the mind of krix at July 14, 2003 04:26 PM .