I just really like saying "Beaverton"
When I was grudgingly paying bills this morning, I realized that one of my credit card payments goes to Beaverton.
So I just couldn't help putting a little note on the back of the envelope.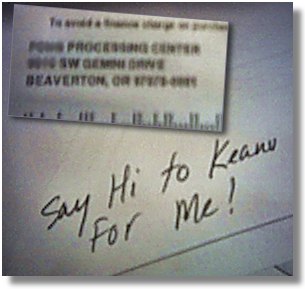 Also, here's some good news for you stage moms in the Portland area:

PORTLAND - There's an open casting call for young men who want to star alongside Keanu Reeves and Matthew McConaughey.
The casting director of "Thumbsucker" is looking for 10 to 13 year old boys for the supporting lead role of "Joel."

The open casting call will be held Thursday from 11:00 A.M. to 5:00 P.M. at 3829 Northeast Tillamook Street in Portland.
cinema , it wahs | from inside the mind of krix at June 25, 2003 10:27 AM .