Holy Ripped Jeans, Batman! It's Ass Friday!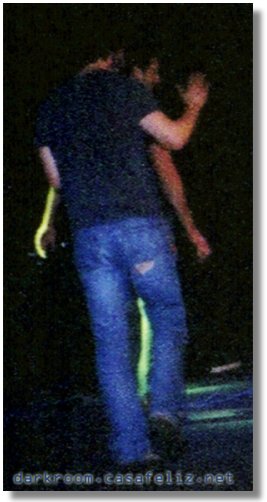 Even having the best of intentions on the LA trip, "Oooh, were going to see becky for the first time, oooooh we're supporting the band, oooooh good friends! good times!!.....", once the freaking bass player comes out showing off a cantaloupe wedge-sized peek of his fleshy underside it's really hard to focus on the music.
Here's audio proof of the effect of ripped jeans on me on the voicemonkey from that night, in case you missed it.
Of course, I wept for Ass Friday, knowing I didn't bring a camera and was not going to be able to preserve his peekaboo posterior for posterity.
But then, glee! Someone had captured the holey grail of ass, and she had it up over at the darkroom at casafeliz.net. And the coolest part is, when I wrote Shelly for permission to use the pic, I found out that we had actually met that night while waiting in line!
I love when things like that happen. It's ass-karma, that's what it is.
becky , spoony | from inside the mind of krix at June 20, 2003 10:25 AM .