What part of "No" didn't you understand?
Snipped from an article on Cannes in The Age:

"Less of a surprise was Keanu Reeves's snappy repartee in the press conference for The Matrix Reloaded. Someone asked kindly whether the success of the film had made it more difficult for him to live a private life. Reeves thought for some time, his expression still as artlessly innocent as we remember him in Bill and Ted's Excellent Adventure, the film that made him what he is today. Laurence Fishburne, who was sitting next to him, decided to help him out. He whispered in his ear for a long time. Reeves nodded. He faced his interlocutor, took a breath and then exhaled slowly. "No," he said. No. No! That was it! Isn't Keanu fab? And come to think of it, he doesn't seem to be ageing either. Get that boy to Thunderbird Island right now!"
Funny how that single word answer got a whole paragraph, though huh?
Foxy like a clever, he is.
And is anyone else besides me wanting to see "The Brown Bunny" just to see what the fuss is about?
And big thanks to Keanuette for the heads up. The Matrix cast presented at the MTV Japan video awards. Yahoo has photos...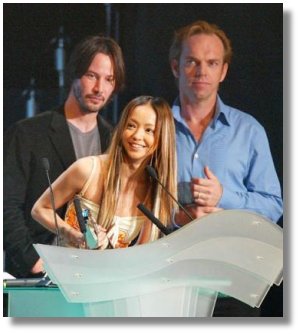 Aren't those the same clothes he got off the plane in?
Poor baby must have lost his luggage.
it wahs | from inside the mind of krix at May 25, 2003 08:46 AM .