Buyer Beware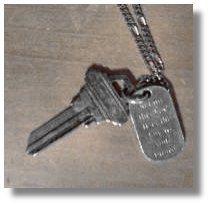 I've pretty much given up on getting any of the new Matrix memorabilia (besides a couple shirts), but if anyone out there is thinking of bidding on one of the key/necklaces without the matching box I wanted to point out that the one in the picture is not what you want. Unless the key is rounded and has the 5-15 stamp (like in this auction), it's just some old housekey that the seller has put on the chain. Probably so they could keep or sell the nice lock box seperately.
When I first saw them I thought that maybe they were using the prop keys from the keymaker's room on the necklaces (and still think that would be a very cool thing to give away), but when I saw the real ones that go with the promo box, I realized that these were basically just bogus.
I just looked and there are a BUNCH of these bogus key necklaces out there (with those tempting "buy it now" options....evil!), in fact this one is the only legit set without the box I can find right now.
So you might want to skip bidding on one unless you know it's the original untouched set.

it wahs | from inside the mind of krix at May 23, 2003 11:07 AM .