will shag for swag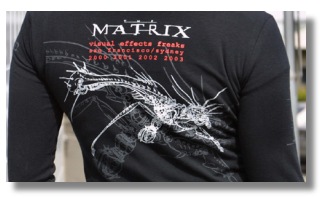 It's a good thing I managed to get the cute candy tank top on eBay that I wanted, or I'd consider becoming a VFX/Grip/Caterer groupie in order to get some of the sweet sweet swag from Reloaded.
There's quite a bit and it's fun to look through (even if a bit taunting for a t-shirt collector like me).
I like that accounting and the medic team have good senses of humor.
I actually hope that not much of this ever appears on the 'bay, and I don't think it will. I imagine that what these t-shirts represent in labor and love is far more precious than the pretty penny they might fetch.
Besides, I can't afford to bid on them anyway.
red pill | from inside the mind of krix at May 19, 2003 02:32 PM .