ah-choo!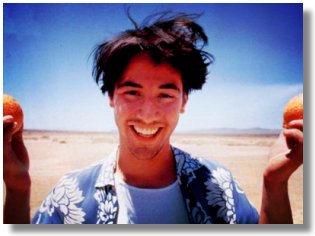 Here's a quote (thx wry!) from People Mag (there's a whole article about him in the June 2 issue):

Reeve's friends call him shy, loyal, generous--and a man of expansive appetites. "When we were playing in St. Louis, Keanu came knocking on everyone's door and said, 'We're in the land of ribs! Let's go find America's best ribs!'" says Bret Domrose, his bandmate in the rock group Dogstar. "Keanu makes a point to live it up, not on a five star-level, but in a down-home way."
Hope everyone is having a good day. Enjoy your BBQs.
I'm having my ass kicked by hay fever so I'm going to stay in bed and eat tangerines.
*sniffle*
it wahs | from inside the mind of krix at May 26, 2003 12:00 PM .