listen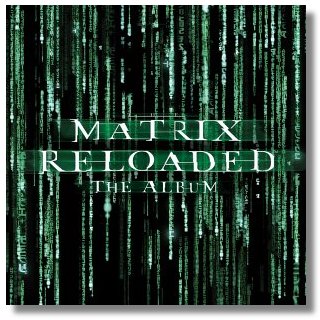 Track Listings
Disc: 1
1. Session - Linkin Park
2. This Is The New Shit - Marilyn Manson
3. Reload - Rob Zombie
4. Furious Angels (Instrumental) - Rob Dougan
5. Lucky You - Deftones
6. The Passportal - Team Sleep
7. Sleeping Awake - P.O.D.
8. Bruises - Unloco
9. Calm Like A Bomb - Rage Against The Machine
10. Dread Rock - Oakenfold
11. Zion - Fluke
12. When The World Ends (Oakenfold Remix) - Dave Matthews Band

Disc: 2
1. Main Title - Don Davis
2. Trinity Dream - Don Davis
3. Teahouse - Juno Reactor Featuring Gocoo
4. Chateau - Rob Dougan
5. Mona Lisa Overdrive - Juno Reactor/Don Davis
6. Burly Brawl - Juno Reactor vs. Don Davis
7. "Matrix Reloaded" Suite - Don Davis
This is in stores now. I'm thinking of closing up shop to go pick one up.
I hear there are even some CD enhancements on the second disc.
ALSO, note that this comes in 2 versions, one with an advisory label and an *edited* version without the explicit lyrics. Read the label.
red pill | from inside the mind of krix at May 07, 2003 12:52 PM .