The One is my co-pilot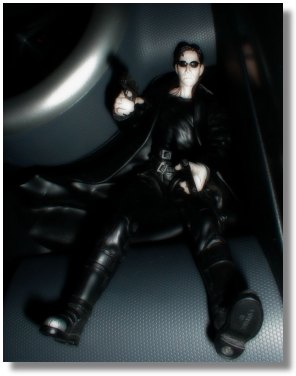 I was actually a little concerned that I would not have a good place for little Neo to live in the new car. He rode on the steering column of my old one, secured by wedging his coat into the gap between the column and the dashboard.
[side note: this is one reason why I never should buy anything truly collectible. I simply must play with it, wear it, etc...the only thing I have "near mint" is a half tin of altoids]
Anyway, the console of the Station wagon is full of little shelves and cubby holes, and there was much rejoicing as I discovered that there is actually a perfect spot for him guarding the ignition.
Who needs The Club™?
Oh, and speaking of Matrix related stuff for your car, TheLastFreeCity reports that the Reloaded Soundtrack album is now up for pre-order at amazon.
it wahs | from inside the mind of krix at March 26, 2003 07:30 PM .