vcr alert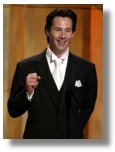 Thanks to
tess
for this heads up...
The American Cinematheque tribute to Denzel W. will air on the third of March on AMC.
Keanu will be on, looking oh-so-yummy in this tux.
Who wants to tape it for me?
media spot | from inside the mind of krix at February 22, 2003 07:24 PM .