little sticks of peace and coughing
Frasier: Now, Bebe, tell me, what is so wonderful about smoking?

Bebe: Everything. [with actions] I like the way a fresh firm pack feels in my hand. I like peeling away that little piece of cellophane and seeing it twinkle in the light. I like coaxing that first sweet cylinder out of its hiding place and bringing it slowly up to my lips. [getting more erotic] Striking a match, watching it burst into a perfect little flame and knowing that soon that flame will be inside me. [laughs] I love the first puff, pulling it into my lungs. Little fingers of smoke filling me, caressing me, feeling that warmth penetrate deeper and deeper until I think I'm going to burst then... [imitates the noise of smoke flooding out of her] ...watching it flow out of me in a lovely sinuous cloud, no two ever quite the same.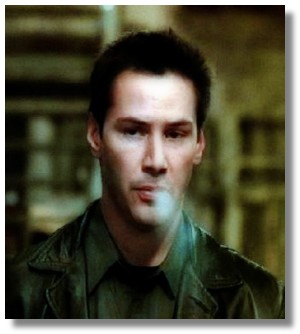 I smoke.
I know I should quit. My body is telling me I should quit. But I just enjoy it sooooo much.
Amazingly, I can go a whole day without a cigarette. If I'm at home, I usually don't smoke. But as soon as I get in the car, I have to have a cigarette. Coffee? yes, please. Let's sit outside so we can smoke.
And what's the point of living in Las Vegas if you can't wander from place to place with a drink in your hand and smoke pretty much anywhere? There are people whose job it is to empty ashtrays.
I'm good for the economy.
I'm also the Contessa of Justificatia, and have convinced myself that Ultra -Light Marlboro 100s are actually good for me.
One time, before a Dogstar show, I bought a pack of Marlboro Reds.
Just in case I bumped into Keanu and he was out.
I ended up smoking them.
it wahs | from inside the mind of krix at March 08, 2003 09:38 AM .