My Neo, what a big stick you have
All together now...
Elsinore Rocks.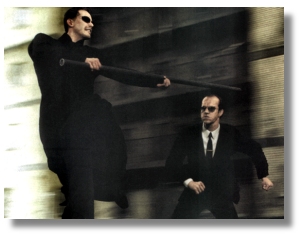 This picture is from today's Variety. Thanks again to Elsinore for sending it out.
With just over 100 days until the release of Reloaded (with Revolutions following sometime in November), the buzz machine is going to be humming along with increasing intensity for these movies. With any other project I would be wary of the product not living up to the hype, but with The Matrix Trilogy, I think we are going to be blown away beyond our expectations.
Just the stills of the fight sequences alone are breathtaking. I can only imagine what it's going to be like, larger than life, in motion.

red pill | from inside the mind of krix at January 21, 2003 12:52 PM .