Cue Mission Impossible theme
(The original, not that crappy Bizkit version)
Great, as if I didn't have enough to do, now I have to figure out how I'm going to infiltrate ShoWest.
If anyone has any industry connections, hook a girl up, eh?
(via KeanuWeb)
Also at KeanuWeb's trailers section is something you spoilerwhores should check out.
I haven't looked at it yet. And that's all I'm going to say.
updated: spoiler image in the extended entry...
OK fine. Every place I go today spoils for THIS particular image, so I might as well post it for swoonage's sake...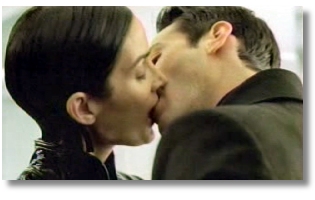 He's a damn fine film kisser.
I must go weep now.
Thanks to POTD.
cinema , red pill | from inside the mind of krix at January 20, 2003 11:42 AM .