You say Constantin, I say Constantine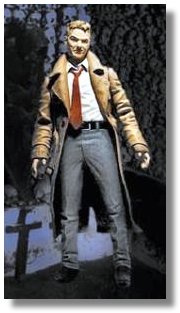 I've been trying to follow the progress of the Hellblazer project over at SuperHeroHype.com. For anyone who doesn't know the basic story, here's what they have to say about the plot:

John Constantine, has been to Hell and back... Using his knowlege of the occult, he wages a war against the demons among us. With the help of a female police officer, Constantine finds himself face to face with the agents of darkness called the "First of the Fallen".

Will mankind survive, will John and his trademark trenchcoat escape the demons' clutches?? We'll have to wait and see as [ Nicholas Cage Keanu Reeves ] becomes... CONSTANTINE.

Now, there was also some understandable confusion over just what the hell was going on, since Lorenzo di Bonaventura was reported to be involved in a Constantin film project, but one based on the historic figure, not the occultist of the Hellblazer comic series. So is Keanu going to play the "right bastard" John Constantine or the Roman Emporer?
Thankfully, it looks like it's going to be the former according to Comics2Film, which has this to say:


Comics2Film followed up on Lorenzo di Bonaventura story from Wednesdays trades with regards to the former studio big wig's involvement with the Constantine movie.

While both Hollywood trades indicated di Bonaventura's first project as a producer would be a movie called Constantine (or Constantin) the reports conflicted as to what the nature of the project is.

A source close to the development effort of the Hellblazer adaptation told C2F that as far as he knows di Bonaventura is not coming on board the comic book movie.

The Di Bonaventura project will be a historical epic concerning the Roman emperor, as was reported in Variety. At this point both projects have the same (or similar) titles. Perhaps the comic book movie could be retitled John Constantine: Hellblazer.

Our source also confirms that Keanu Reeves (The Matrix) whose name has been mentioned in a couple of recent articles is, in fact, attached to the project. However, he has not signed to appear in the movie at this point.
Or at least it's going to be once he signs. If he signs.
Augh, this is all too much for me. I remember the good old days when I just watched a movie when it came out. Now I'm buying books and comics on mere speculation.
In any case, I won't be buying a lot of Emporer Constantin shwag.
I did however snag that nifty little John Constantine action figure today.
I know, it's a damn sickness.....
constantine | from inside the mind of krix at January 13, 2003 11:51 AM .