Last minute shopping
Still don't know what to get the Keanu fan in your life? Want to treat yourself to a nice reward for getting all your shopping done already?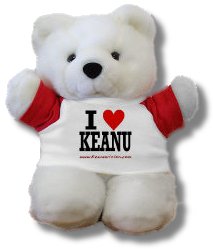 There's still time to get something from the keanuvision store and have it delivered by December 24. Cafepress is upgrading its standard shipping to make it so.
They've run out of ornaments, but there's still bears and thongs and jerseys and beanies so you can proclaim your Keanulove.

the site | from inside the mind of krix at December 18, 2002 01:30 PM .