Matrix OS updates and some other news
The new photos that Morpheus promised us are up at TheMatrix.com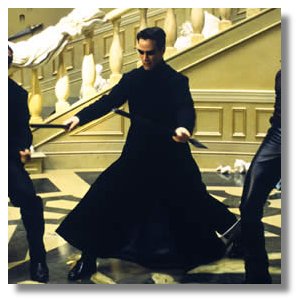 I'm so glad that the Matrix' web team is so on it. The hype is really going to start to gain momentum in the next few months and I can't wait to see what they come up with.
In other breaking news, Tesseract of KeanuSluts.com (GREAT name!) reports that A&E is doing a Biography program on Keanu next year.
So go check that and the rest of the KeanuSluts site out.
Also, Keanu was at the premiere of Sandra Bullock's new film with a very cute young lady the other night. You can see the photo and over at Yahoo news. Thanks to Margarete for that link.
red pill | from inside the mind of krix at December 14, 2002 10:06 AM .