He can come stuff my stocking anytime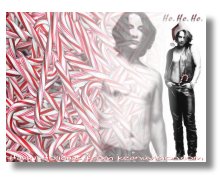 Now you can have fierce-in-leather santa and his special holiday treats on your desktop.
(edited to add)
Oooh, and here's how Keanu rates on Santa's naughty or nice-o-meter (via kat)

Keanu Reeves: "Nice, with a few naughty marks. Neatness needs improvement. Behavior has been good sometimes, not so good other times. Manners could still use some attention. Was very nice last Monday. "

and me?

krix: Overall, niceness outweighs naughtiness. Was good a lot last month! Politeness often good, but has room for improvement. Could help around house more instead of watching so much TV. Expected to move even higher up "nice" list.
That's actually a little scary, she thought as she dug through the pile of laundry on the foot of the bed looking for the remote ...
What does Santa say about you?

doodles | from inside the mind of krix at December 11, 2002 04:11 PM .